About RDF2vec
RDF2vec is a tool for creating vector representations of RDF graphs. In essence, RDF2vec creates a numeric vector for each node in an RDF graph.
RDF2vec was developed by Petar Ristoski as a key contribution of his PhD thesis Exploiting Semantic Web Knowledge Graphs in Data Mining [Ristoski, 2019], which he defended in January 2018 at the Data and Web Science Group at the University of Mannheim, supervised by Heiko Paulheim. In 2019, he was awarded the SWSA Distinguished Dissertation Award for this outstanding contribution to the field.
RDF2vec was inspired by the word2vec approach [Mikolov et al., 2013] for representing words in a numeric vector space. word2vec takes as input a set of sentences, and trains a neural network using one of the two following variants: predict a word given its context words (continuous bag of words, or CBOW), or to predict the context words given a word (skip gram, or SG):

This approach can be applied to RDF graphs as well. In the original version presented at ISWC 2016 [Ristoski and Paulheim, 2016], random walks on the RDF graph are used to create sequences of RDF nodes, which are then used as input for the word2vec algorithm. It has been shown that such a representation can be utilized in many application scenarios, such as using knowledge graphs as background knowledge in data mining tasks, or for building content-based recommender systems [Ristoski et al., 2019].
Consider the following example graph:

From this graph, a set of random walks that could be extracted may look as follows:

Hamburg -> country -> Germany            -> leader     -> Angela_Merkel
Germany -> leader  -> Angela_Merkel      -> birthPlace -> Hamburg
Hamburg -> leader  -> Peter_Tschentscher -> residence  -> Hamburg
For those random walks, we consider each element (i.e., an entity or a predicate) as a word when running word2vec. As a result, we obtain vectors for eall entities (and all predicates) in the graph.
The resulting vectors have similar properties as word2vec embeddings. In particular, similar entities are closer in the vector space than dissimilar ones, which makes those representations ideal for learning patterns about those entities. In the example below, showing embeddings for DBpedia and Wikidata, countries and cities are grouped together, and European and Asian cities and countries form clusters: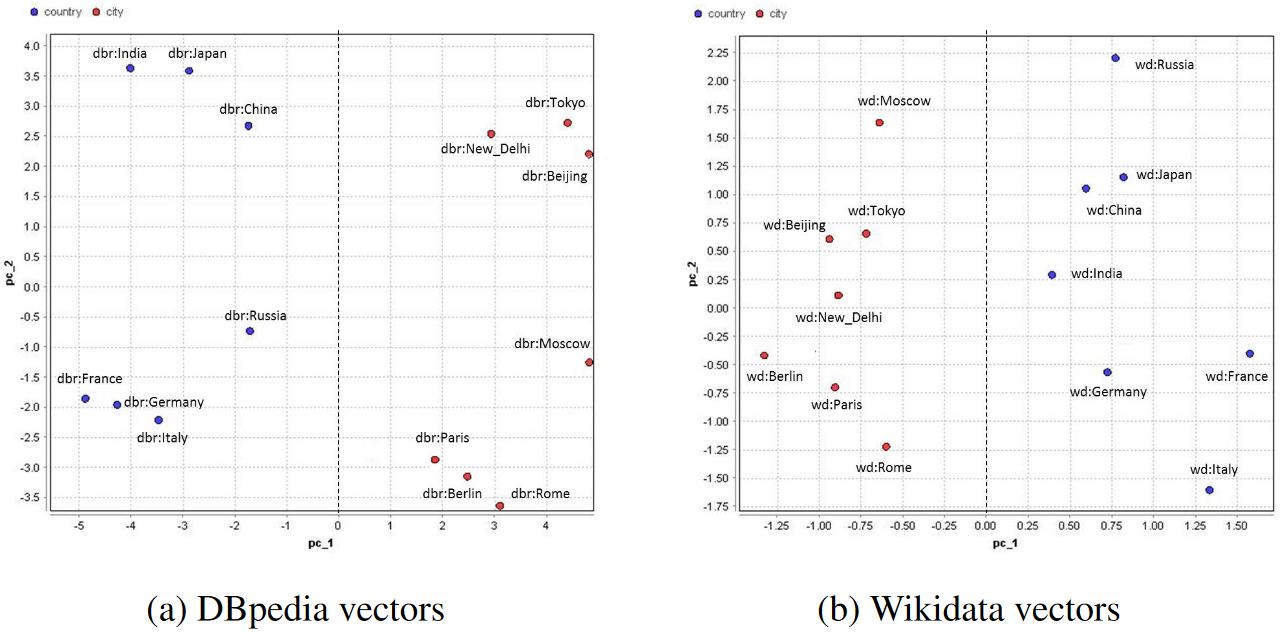 The two figures above indicate that classes (in the example: countries and cities) can be separated well in the projected vector space, indicated by the dashed lines. [Zouaq and Martel, 2020] have compared the suitability for separating classes in a knowledge graph for different knowledge graph embedding methods. They have shown that RDF2vec is outperforming other embedding methods like TransE, TransH, TransD, ComplEx, and DistMult, in particular on smaller classes. On the task of entity classification, RDF2vec shows results which are competitive with more recent graph convolutional neural networks [Schlichtkrull et al., 2018].
RDF2vec has been tailored to RDF graphs by respecting the type of edges (i.e., the predicates). Related variants, like node2vec [Grover and Leskovec, 2016] or DeepWalk [Perozzi et al., 2014], are defined for graphs with just one type of edges. They create sequences of nodes, while RDF creates alternating sequences of entities and predicates.
This video by Petar Ristoski introduces the main ideas of RDF2vec: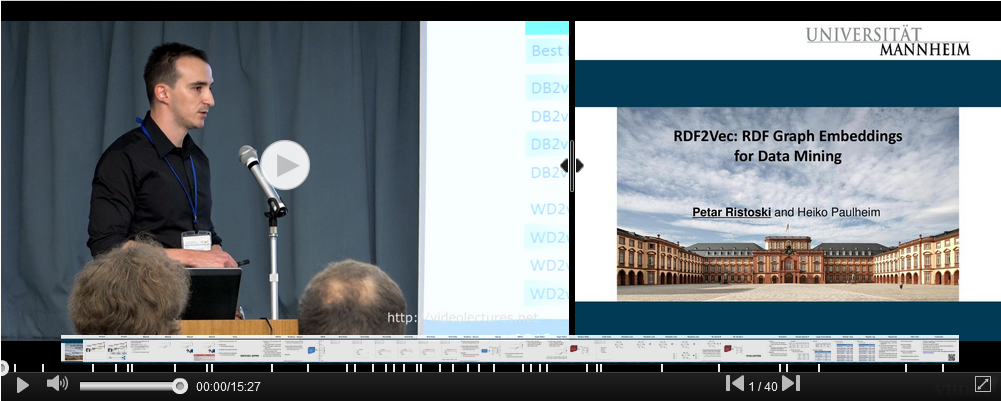 Trans* etc. vs. RDF2vec
A lot of approaches have been proposed for
link prediction in knowledge graphs
, from classic approaches like TransE [
Bordes et al., 2013
] and RESCAL [
Nickel et al. ,2011
] to countless variants. The key difference is that those approaches are trained to optimize a loss function on link prediction, which yields a projection of similar entities closely together in the vector space as a by product. On the other hand, the capability to predict links is a by product in RDF2vec, in particular in variants like
order-aware RDF2vec
. A detailed comparison of the commonalities and differences of those families of approaches can be found in [
Portisch et al., to appear
]